Chairman Statement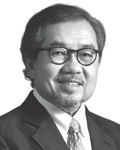 To Our Shareholders,
On behalf of the Board of Directors, I present to you the Annual Report and Audited Financial Statements of the Group and the Company for the financial year ended 31 May 2015 ("FY2015").
REVIEW OF FINANCIAL RESuLTS
The Group posted a lower operating revenue of RM32.3 million in FY2015 compared to RM49.7 million in the previous financial year ended 31 May 2014 ("FY2014").The operating revenue in FY2015 excludes contribution from Sinsenmoh Transportation Pte Ltd ("SSM") which was disposed of in the middle of FY2014. Profit before taxation ("PBT") decreased to RM0.8 million in FY2015 compared to RM14.9 million in FY2014. The results in FY2014 include the one-off gain of RM20.1 million arising from the sale of SSM.
REVIEW OF OPERATIONS
The tank farm business remains stable and it is expected to maintain its performance despite a challenging environment. In the current financial year, the tank farm business posted improved PBT of RM3.4 million compared to RM2.8 million a year ago with better management of operational overheads for plant maintenance. Our transportation business is still facing stiff competition and high operational costs. The revenue from the transportation business decreased to RM18.9 million in the current financial year compared to RM20.9 million last year. Consequently, we incurred a pre- tax loss of RM0.4 million compared to pre-tax profit of RM0.4 million last year.
FUTURE PROSPECTS
We are witnessing a very challenging economic situation, not just domestically but also worldwide. A weaker ringgit, depressed commodity prices and an uncertain external environment are factors affecting confidence in local businesses. Our Management will continue to be vigilant in managing the business in the face of such challenging times.
APPRECIATION
On behalf of the Board of Directors, I take this opportunity to extend my thanks to the Management and all staff of the Group for their dedication and commitment. I must also extend my sincere thanks to our shareholders for their trust in us and to all valued customers, bankers and authorities and business associates for their confidence and unwavering support all these years.
Dato' Abdul Latif bin Abdulah
Chairman
Petaling Jaya
16 October 2015